NEWS RELEASE
FOR IMMEDIATE RELEASE
RAY, ND – NCC announces the completion of its 3,540 mile fiber optic broadband network to 16 exchanges serving approximately 5,500 members within the counties of Burke, Mountrail, Williams and Divide in northwest North Dakota. Eleven years ago, NCC embarked on an initiative to deliver up to 1,000 Megabits per second internet connections – that's 1 Gig – to businesses and homes within their service territory. The project which consisted of 47,000 man hours and a $50 million investment was a mission to upgrade NCC's entire network and efforts to strengthen the region through an all-fiber network. NCC has a rich history of investing in the local workforce and community and has made a significant impact on the local economy.
Fiber is a must-have utility, as vital as power and water to many. NCC's robust 100% Fiber Network will be able to support the increased demand placed on it. "More and more devices are Internet-capable, making the demand for more bandwidth critical. Whether it is a family bonding while streaming movies together or a business needing a reliable, fast connection to compete in a global economy, fiber is the best solution," said GM/CEO Jeremy Becker.
A strong telecommunications network is a top economic development recruiting tool. NCC's fiber network along with regional and statewide associations such as BAND and DCN, have helped attract industries that demand the highest performance from their Internet, and showcase the region as a top choice for businesses and consumers to relocate.
Building a 100% Fiber Network takes a lot of patience, progress, and funding. "We've been fortunate to have all of the many factors required for a build out such as this, including a talented team, supportive communities and amazing members," said Board President AJ Cvancara.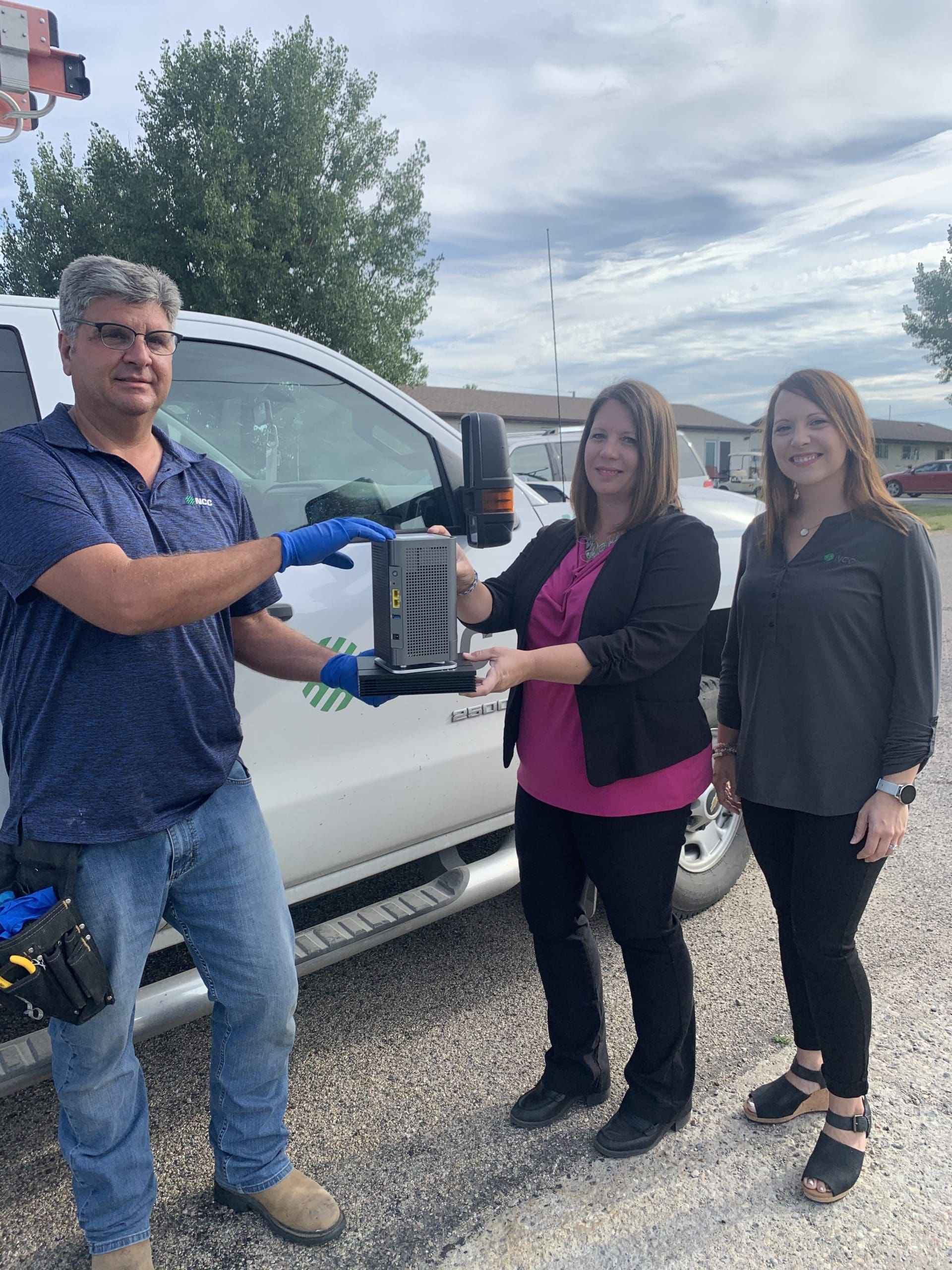 NCC technician, Sheldon Johnson makes the switch to fiber optics at one of the final locations for completion of the NCC fiber network at Chandra and Chris Rystedt's home in Powers Lake while NCC Director Leslie Grubb looks on.
What Fiber Means to Area Residents and Businesses
Reliable, high quality connection
Faster connection speeds – up to 1,000 Mbps
Improved productivity and ability to compete globally
Unlimited Internet usage – no caps on data consumption
Homes and businesses are equipped for the future of technology
Little to no maintenance
Less vulnerable to glitches or interference
Clearer phone conversations and TV signals
Secure voice and data transmissions
Increased property values [That Fiber Broadband Association released a 2015 study[1] that found access to fiber had a direct impact on home real estate values. "The boost to the value of a typical home – $5,437 – is roughly equivalent to adding a fireplace, half of a bathroom or a quarter of a swimming pool to the home," the Association stated in a release about the study.]